Locations
Monday 13th April: Fundação Planetário da Cidade do Rio de Janeiro
Tuesday 14th April: UFF - Universidade Federal Fluminense
Wednesday 15th April: UFF - Universidade Federal Fluminense
MAC - Museu de Arte Contemporânea de Niterói
Cassino da Urca
Thursday 16th April: CBPF - Centro Brasileiro de Pesquisas Físicas
Friday 17th April: Fundação Planetário da Cidade do Rio de Janeiro
Saturday 18th April: CBPF - Centro Brasileiro de Pesquisas Físicas
Tuesday 21th April: Estação Ciências Auditorium - João Pessoa (PB)
Wednesday 22th April: Espaço Ciência - Recife (PE)
IFCE - Fortaleza (CE)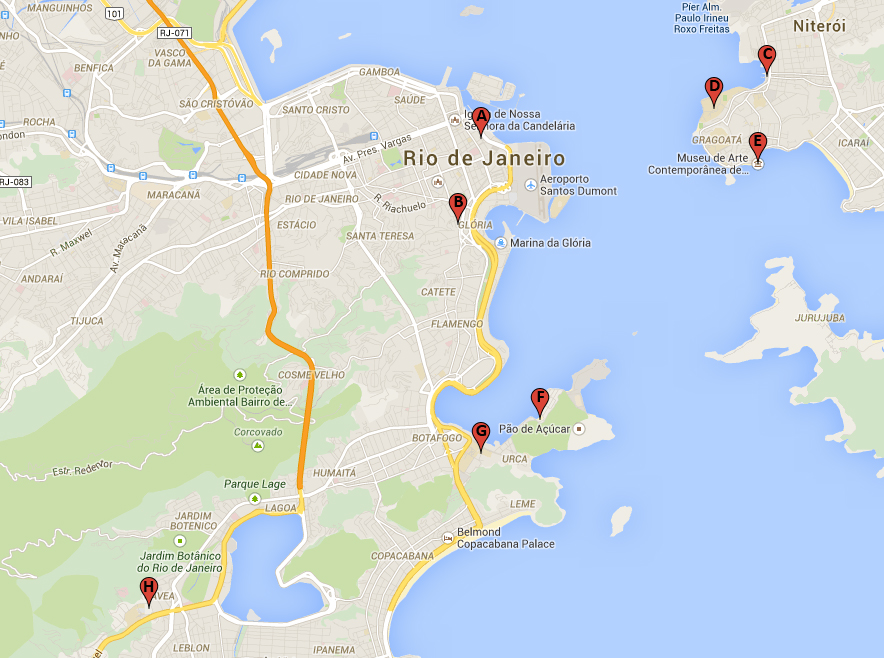 A = Boarding point - Rio de Janeiro São José - Centro
B = Diamond Hotel
C = Boarding point - Niterói Araribóia
D = UFF - Universidade Federal Fluminense
E = Niterói Contemporary Art Museum
F = Cassino da Urca
G = CBPF - Centro Brasileiro de Pesquisas Físicas
H = Fundação Planetário da Cidade do Rio de Janeiro
Niterói Overview
Source: braziltravelinformation.com
Because of the famous Museu de Arte Contemporanea, Niteroi has become a major excursion for travelers to Rio. Situated on the other side of Guanabara Bay, Niteroi is a busy center for commerce and tourism and is also the gateway to several beautiful beaches and colonial forts. Its close proximity to Rio makes it a popular day trip complete with breathtaking views of the bay and architectural wonders.
[READ MORE]
Rio de Janeiro Overview
Source: braziltravelinformation.com
Rio de Janeiro: where sparkling waters, beautiful people, and historic neighborhoods and museums combine with the rich sounds of Samba and a thriving nightlife to give this Brazilian city its reputation as one of the most striking in the world. The Cidade Maravihosa (Marvelous City), as Brazilians call it, displays a unique blend of contrasts: a bustling metropolis amidst beautiful mountain ranges, rain forests and wetlands, tremendous wealth amidst crushing poverty, old traditions juxtaposed with desires for modernity.
[READ MORE]